The 1st Pres Youth Ministry exists for two reasons; to gather our students in hopes that they would know, trust in, and treasure Christ (Col. 2:2-3), and to disciple our students in hopes that they will grow as faithful, fruitful, followers of Christ (Col. 2:6). This is primarily accomplished through small group discussion, large group teaching, events, retreats, mission opportunities, and one-on-one mentorship. By God's grace, and for His glory, we hope to be a welcoming, authentic community who worships God in gospel-centered fellowship, and loves others in gospel-centered service (Heb. 10:24-25).
There are lots of ways to get plugged in and involved, such as Large Group, small group Bible studies, events, and retreats. Please contact us for more information!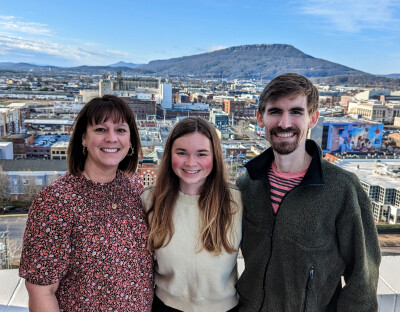 Cherie Brown, Isa Bridges, and Brad Roberts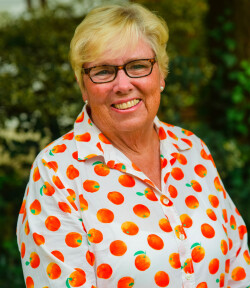 Deb Gruner - Volunteer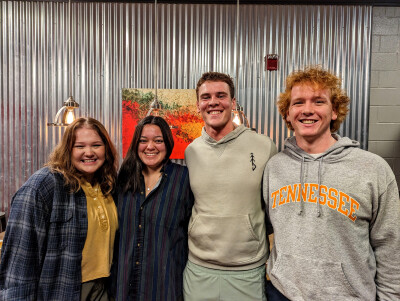 Meet Our Youth Ministry Interns!
Braden Beebe
Hello, my name is Braden and I am so excited to be working with First Pres! I am a freshman at UTC studying business management. I have three older brothers and one younger, and we were missionaries in Ghana Africa when I was eight years old. I love playing ultimate frisbee - I have been playing since middle school! In my spare time, you might find me throwing with friends at the park or at one of UTC's fields. Looking forward to being a part of the First Pres youth ministry team!
David Clem

Hey guys! My name is David Clem, and I'm a freshman at Covenant College where I study business with an interest in education, and where I play soccer. I spend my summers working at my favorite place, Camp Vesper Point. Places you might find me are playing pickle ball, cheering on Covenant and CCS athletics, and eating at Crust. I'm so excited to get to know you all better!
Gus (Augusta) Rogers
Hey guys! My name is Augusta Rogers but everyone calls me Gus! I am a freshman at Covenant College studying Art with a concentration in graphic design and minoring in Bible Studies. A lot of people might know me from Vesper Point as I was a counselor and boat driver there for the past two years. Fun Fact - I am allergic to the state of Colorado :( My favorite hobby is hanging outside with friends, either on a walk or exploring new places! If I am not at school or church, you could find me at a good coffee shop sketching or reading a good book. I am super excited to be here and can't wait to meet all of yall!
Julia Bryan
Hi! I'm Julia Bryan and I'm a junior at UTC studying art education to be an art teacher. I'm from Nashville and was in school at UTK (Go Vols!) for two years before transferring here - so, I am new here! Fun fact about me is that I am learning to play the banjo and I love to read just about anything (currently reading The Doctrine of Creation). Outside of school and church, I can be found walking by the river or studying at a coffee shop. I'm so happy to be a part of 1st Pres Youth!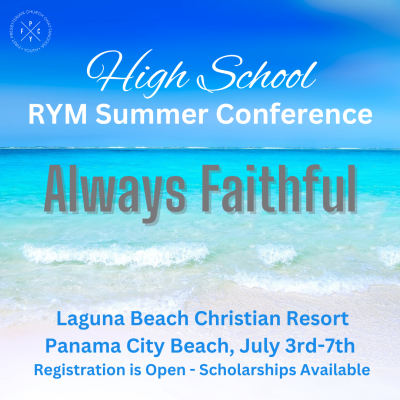 High School RYM Summer Conference
We are excited to offer this amazing experience for our high school students! We will be traveling to Panama City Beach and joining other high schoolers from around the country for a week of exploring how our God is "Always Faithful". Please check ot the rym.org website for more details about our week at RYM's Florida Summer Conference.
WHO: Our trip is open to students who are rising 9th graders through students who have completed 12th grade. Space is limited to 15 students.
WHEN: We will leave Monday morning (July 3rd) and return Friday evening (July 7th), traveling by two 15 passenger vans.
COST: $450 per student. A $150 non-refundable deposit is due at registration. The remaining $300 will be due by March 26th. Additional spending money will be needed to cover one mean on each of the travel days and one night out during the week.
Scholarships are available upon request. Please contact for more information.
Sign up HERE
For more information, click
HERE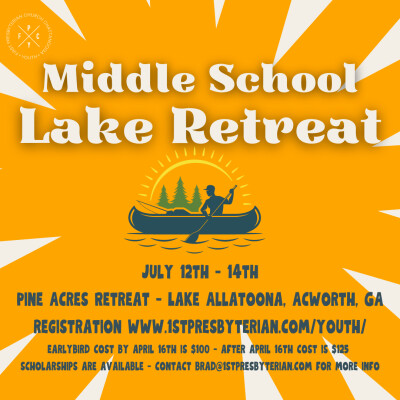 Middle School Lake Retreat
This summer we are excited to offer a Summer Lake Trip for our Middle School students. We will be traveling to Pine Acres Retreat in Ackworth, GA to hear God's word through large group talks, fellowship in small group discussion, and—of course—enjoy loads of fun and good food! Have your swim suit ready as we'll enjoy time on the lake and in the pool to cool off between all the other activities!
WHO: Rising 6th graders through rising 9th graders.
WHEN: We will leave Wednesday afternoon (July 12th) and return mid-day Friday (July 14th)
COST: EARLYBIRD special sign up through 4/16: $100. After 4/16 price increases to $125
Scholarships are available. Please contact for more information.
Register Here
Medical Release Waiver