The 1st Pres Youth Ministry exists for two reasons; to gather our students in hopes that they would know, trust in, and treasure Christ (Col. 2:2-3), and to disciple our students in hopes that they will grow as faithful, fruitful, followers of Christ (Col. 2:6). This is primarily accomplished through small group discussion, large group teaching, events, retreats, mission opportunities, and one-on-one mentorship. By God's grace, and for His glory, we hope to be a welcoming, authentic community who worships God in gospel-centered fellowship, and loves others in gospel-centered service (Heb. 10:24-25).
Our Philosophy
Gospel-Centered: Belief in the Gospel is not a one-time commitment but an everyday dependence on the grace of God. We strive to teach and model the Gospel as taught in the Bible in all aspects of the youth ministry.
Parent-Assistive: Parental influence as a primary avenue of discipleship is a God-ordained reality. We strive to celebrate and encourage parents in their call to be the primary disciplers of their students.
Discipleship-Oriented: Relational discipleship goes beyond a surface level friendship with older adults. We strive to build authentic, intentional relationships with students and foster biblical fellowship amongst students.
Covenant-Driven: The Gospel calls us into participation and membership of a covenant community in God's Kingdom. We strive to gather and disciple every student and family who are members of our local congregation, encouraging intergenerational connection and active participation in the life of 1st Pres.
Our Methods
Prayer: We saturate our ministry with prayer for and with our students and families.
Programing: We have a variety of programs, events, and retreats in order to teach and equip students in the Gospel.
Fellowship: We have times to fellowship and cultivate gospel relationships amongst peers and adults.
Service: We offer opportunities for students to serve in various capacities throughout the year.
Mentorship: We meet with and have Gospel conversations in one-to-one and small group discipleship.
Singing: We offer times and ways to worship and praise our God through song.
Fun: We will have intentional and organic fun and laughter in our ministry.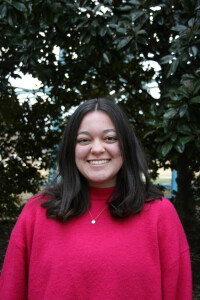 Julia Bryan
My name is Julia Bryan and I'm a rising senior at UTC, but spent my first two years at UTK (VFL)! I'm studying art education and wanting to be a high school art teacher, and will be student teaching in the fall. I'm excited to continue working with middle and high school students this summer & hoping to spend lots of time jumping in pools & fellowshipping over meals & ice cream!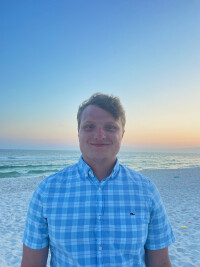 Jackson Fleming
Hello! I'm Jackson Fleming and I'm a senior at UTC studying psychology. I am from Nashville and I'm a huge fan of the Titans! Other than cheering on my favorite sports teams some of my other hobbies are hiking, exercising, and playing soccer. I'm really excited to get to hang out with the youth this summer!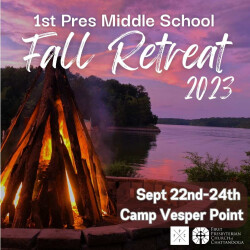 Middle School Students - We have a youth retreat coming up September 22nd-24th at Camp Vesper Point. We will join several other local PCA Youth Groups for a great weekend of Bible teaching, worship, discipleship, prayer and all the fun that CVP has to offer. It's going to be great - you don't want to miss it! Register today at 1stpresbyterian.com/events
Medical Release Waiver