1st Pres Women's Ministry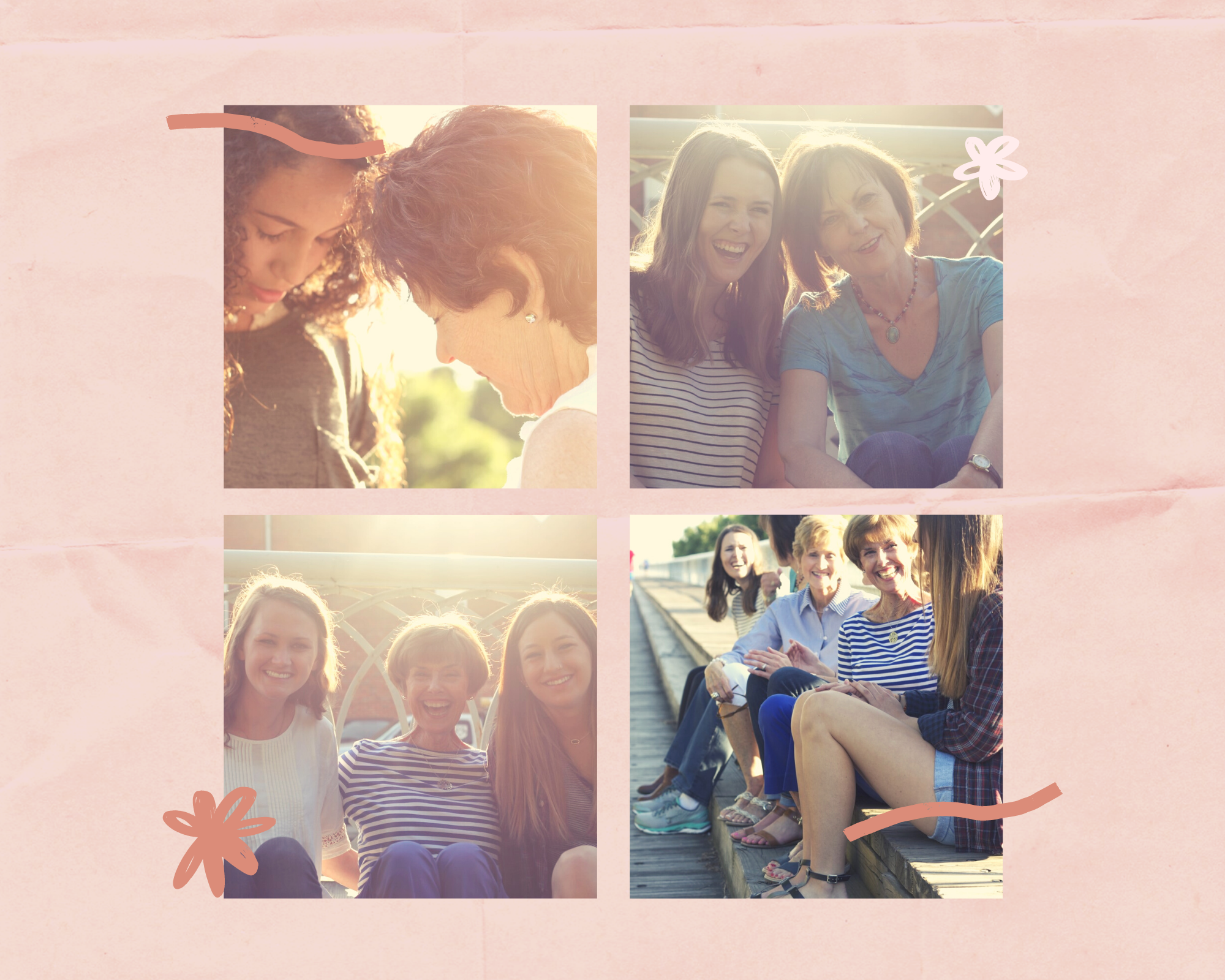 Our Mission - "He has told you, O man, what is good; and what does the Lord require of you but to do justice and to love kindness and to walk humbly with your God? - Micah 6:8


The purpose of 1st Pres Women is that every woman knows Christ personally and be committed to extending His Kingdom in her life, home, community, and throughout the world.

A Message from Melissa Guinn - On Behalf of the Board




The Board and I are honored to serve you this year. As is often said, we make a plan "Lord willing" and we are holding this phrase close as we pray and plan for the 2020-2021 ministry year.




A hallmark of our church and Women's Ministry is the rich teaching we have always had. Our Bible Studen leaders will continue to bring you times to connect and grow. In addition, we will have opportunities to fellowship together in person (tentatively) and on Zoom.




If there is one thing I have learned during this time, and most of my life as a type-A planner, is that tI definitely can plan my way, but the Lord establishes my steps (Proverbs 16:9). We have many blessings in that we can rest in His direction, lean on His understanding, and He does not hide His ways from us. Look forward to a year of thinking biblically and living covenantly with you all!

Ministries



Beatitude Living (Weekly, Tuesday at noon, 4th Floor Tower) - A Christian 12-step Program committed to recovery. Contact: Nancy Mills (423-266-5007)

Mom2Mom (4th Friday at 10 am, 10th Floor Tower) - Small group Discussion, Zoom until nursery opens. Contact: Angi House (423-480-9638)

Monday Prayer Ministry (Weekly at 10 am in the Session Room) - Contact: Faith Cochran (423-894-5742)

Square 1 (1st, 2nd, 3rd, and 5th Fridays at 10:30 am) - First-time moms with infants. Contact: Meredith Clark (423-667-8007)
Summer Bible Study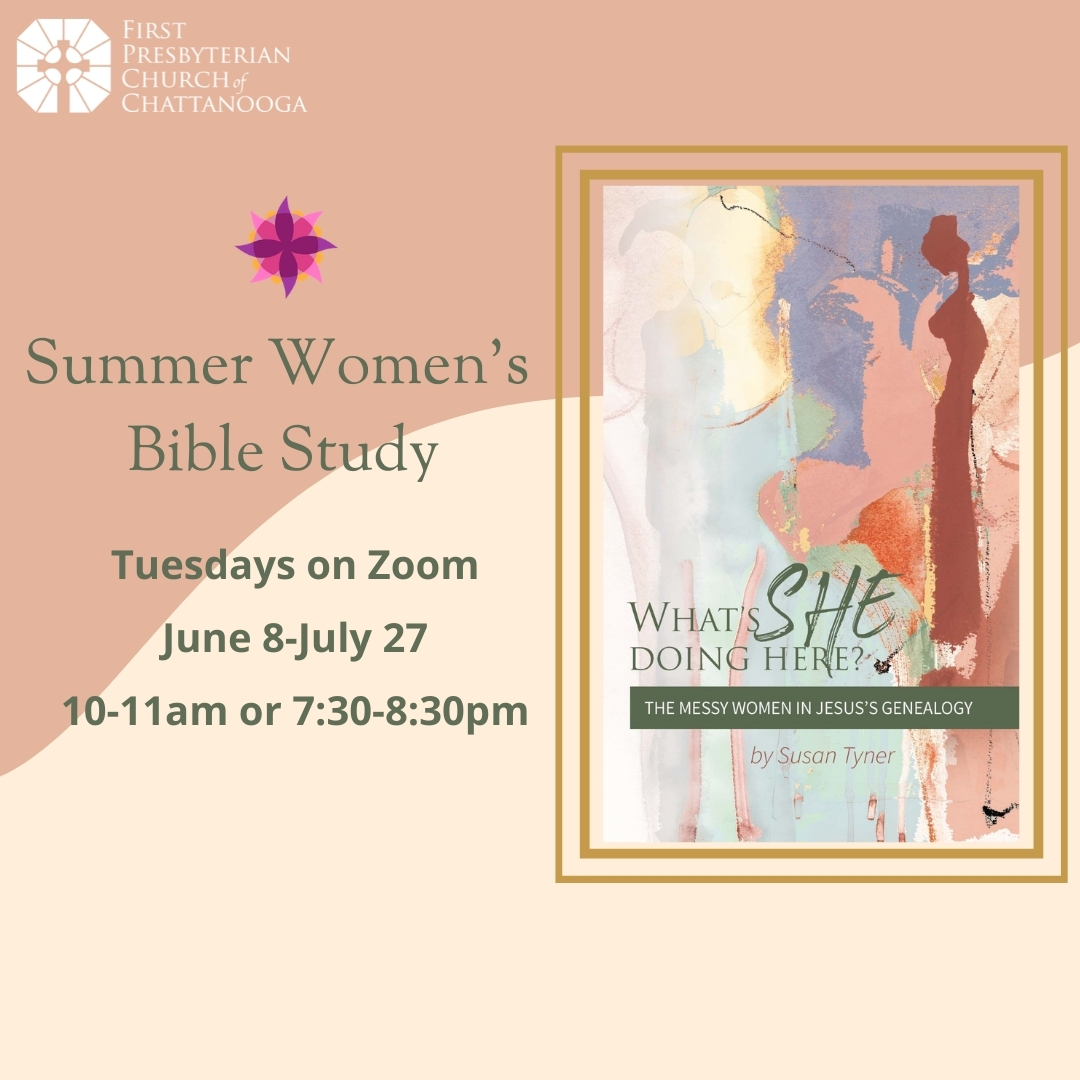 The Gospel of Matthew begins with Jesus's family tree, an unusual one not only because it includes women, but messy women: Tamar, who tricked her father-in-law to impregnate her; Rahab, the Jericho prostitute who betrayed her countrymen; Ruth, the widowed Moabitess turn beggar; and Bathsheba, listed only by her murdered husband's name. Then there was Mary. Although we know of her innocence and submission to God, those around her questioned her purity and the legitimacy of the Child she bore.
Join us this summer as we study What's SHE Doing Here? The Messy Women in Jesus's Genealogy by Susan Tyner where we will examine how God wove the messy stories of these five women together into His Big Story of salvation. And learn how He continues to redeem His children—one messy story at a time.
We'll meet on Tuesdays on Zoom for 8 weeks, June 8th-July 27th, at 10:00-11:00 am or 7:30-8:30 pm. You'll receive a weekly email with a link to a 30 minute teaching video by the author of the study and the link to the Zoom meeting where we'll discuss the study.